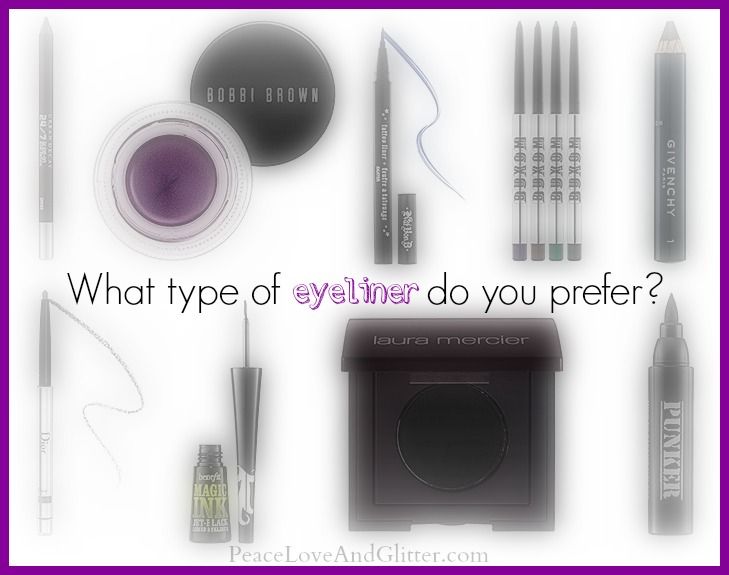 Now, before you answer this, please note that I only want to know ONE answer.  I know most of us use different things, some days we prefer a smudgy pencil and some days the precision of a liquid.  This is if you HAD to choose just one…
I say. . .
Gel all the way baby!  Pencils are in second place (they're easy!) and pens in third.  I've only tried one cake liner (Laura Mercier), and while I liked it I felt like a gel was just as pigmented and lasted just as long.  Plus, you don't have to use an activator with a gel.  My current favorite gel is Bobbi Brown's, but Tarte is in a close second, then MAC's Fluidline.

How's your weekend?  Mine has been really good, just been working and hanging out with friends and family.  My cousin is getting back from a month long trip from Europe tomorrow, I can't wait to hear about his trip!  He got to go see the Harry Potter world in London!  #sooooooooojealous
Drink water. Wear SPF.
About the author: I am currently a makeup artist and licensed esthetician in the Kansas City area. It is my life's passion to make people look and feel their best! I'm also a die-hard Harry Potter fan and Chipotle enthusiast. Click here to learn more about me.
BRAND AFFILIATION DISCLOSURE: I am currently employed by a cosmetic retail store called Sephora. I am under no obligation to talk about Sephora or brands affiliated with Sephora nor do I receive additional benefits or compensation for talking about them. The views expressed are my own and do not necessarily express the views of Sephora. Click here to read my full disclosure policy.