I recently got the opportunity to try some Mary Kay products through Influsenster.  The only thing I really use from the brand is their Satin Lips, so I was excited to try some of their color!
Mary Kay says (mascara): Creates bold, instantly intensified length of lashes. Lifts, curls and perfectly separates lashes. Conditions and strengthens lashes Nonclumping, flake-free formula wears all day for over 10 hours.
Mascara Primer: Add dramatic definition to your eyes to create fuller lashes when used as a basecoat under mascara. Or wear the clear formula alone for a natural look. Instantly intensifies lash volume and creates longer-looking lashes. Lifts lashes and helps them stay curled longer. Coats without flaking, yet removes effortlessly. Helps mascara wear longer.
Concealer/Cream Eyeshadow brush: ​This is the perfect brush for applying any cream product, such as Mary Kay® Eye Primer, Mary Kay® Cream Eye Color and Mary Kay® Concealer. The short, flat, synthetic bristles allow the brush to distribute cream-based products evenly. The tapered shape is designed for precise application. For hygienic reasons, one brush should be dedicated to each cream product. Perfect for everyone from novice to professional. Easy to clean.
Cream Eye Color: This soft, creamy, long-wearing formula glides on easily, lasts for 10 hours and can be applied in multiple layers to deliver more noticeable color while retaining a lightweight feel. Can be used alone or as a primer under mineral eye color. Dries quickly and does not transfer. Oil- and fragrance-free. Clinically tested for skin irritancy and allergy, suitable for sensitive skin and eyes. Ophthalmologist-tested and suitable for contact lens wearers.
Lipstick: Intensely moisturizing. Exquisitely smoothing. It's like a color-infused fountain of youth for your lips. Instantly drenches lips in moisture and locks it in for endless comfort. Infused with advanced skin care ingredients, the formula smooths the appearance of fine lines and helps lips look fuller. Just a push of the clear top button releases pure, radiant color from its sleek, ultrastylish case.
Mascara:  The formula is buildable, I found I only needed two coats and it didn't get clumpy.  The fibres are small on the applicator so it's easy to get to every single lash (you'll like this if you have shorter lashes!).
Mascara primer:  This was just okay for me, I don't feel like it made a huge difference in my mascara.  It looks clumpy on the applicator (pics later in the post), but it didn't transfer to my lashes like that.  In fact, I couldn't tell if the clear formula was transferring at all to my lashes.  After apply a coat (or at least I think I did), I felt my lashes and they didn't feel any different.  I didn't like this as much as I've liked other lash primers that I've tried (like the Lancome and Dior).
Concealer/cream eyeshadow brush:  The synthetic fibers are stiff but not hard on the edges.  The top is tapered which it great for  under eye concealer application.  It's also a good size for applying cream eyeshadow onto the eyelid.
Cream eye color:  The violet color is very pretty and universally flattering.  I patted on a 3-4 layers on my eyelid and it left a nice wash of color.  The color payoff reminds of me the Clinique Chubby Stick for eyes, not completely opaque but not exactly sheer, somewhere in the middle.
Lipstick:  It's a creamy formula with a shiny satin finish.  I really like the way this feels on my lips, it has some slip but isn't sticky.  It's a pretty bubble gum pink that's fun for summer!  I did find that this settled into the lines in my lips (just at tad) after about an hour.  I really like the packaging, although I'll admit it took me a minute to figure it out… (pics later in the post).
Overall
My favorite things are the lengthening mascara and pink lipstick.  I didn't have much luck with the mascara primer and didn't really see that it made a difference in my mascara application.  The cream eyeshadow makes a nice base or gives a medium wash of color, but it's nothing that blew me away.  The tapered end on the concealer/cream eyeshadow brush makes it ideal for concealer application.  The size of the brush head is nice for applying color to the eyelid.

Glitter Rating: Mascara: 4 / 5, Mascara Primer: 1 / 5, Brush: 5 / 5, Cream Eye Color: 3 / 5 Lipstick: 3.5 / 5

Where: Mary Kay (mascara, primer, brush, cream eyeshadow, lipstick), Amazon (mascara
, primer
, brush
, cream eyeshadow
, lipstick
).Price: $15/0.28oz (mascara), $15/0.28oz (primer), $10 (brush), $14/0.15oz (cream eyeshadow), $15/0.11oz (lipstick).
For additional pics,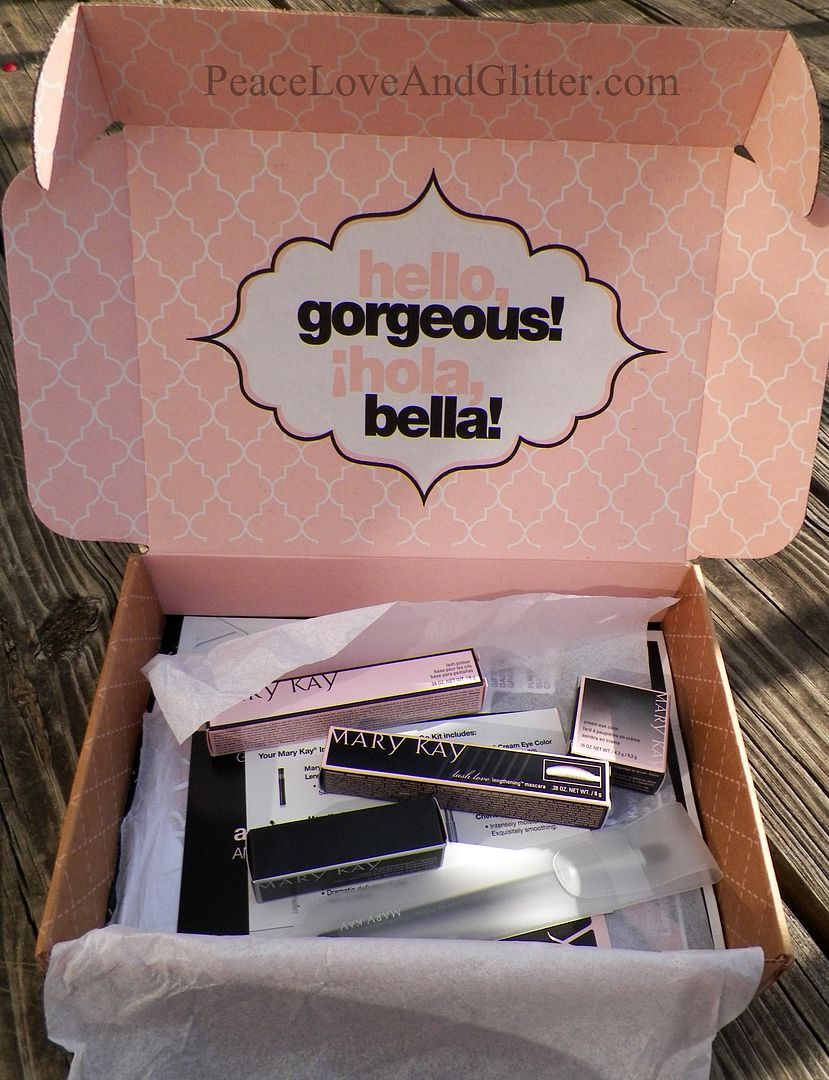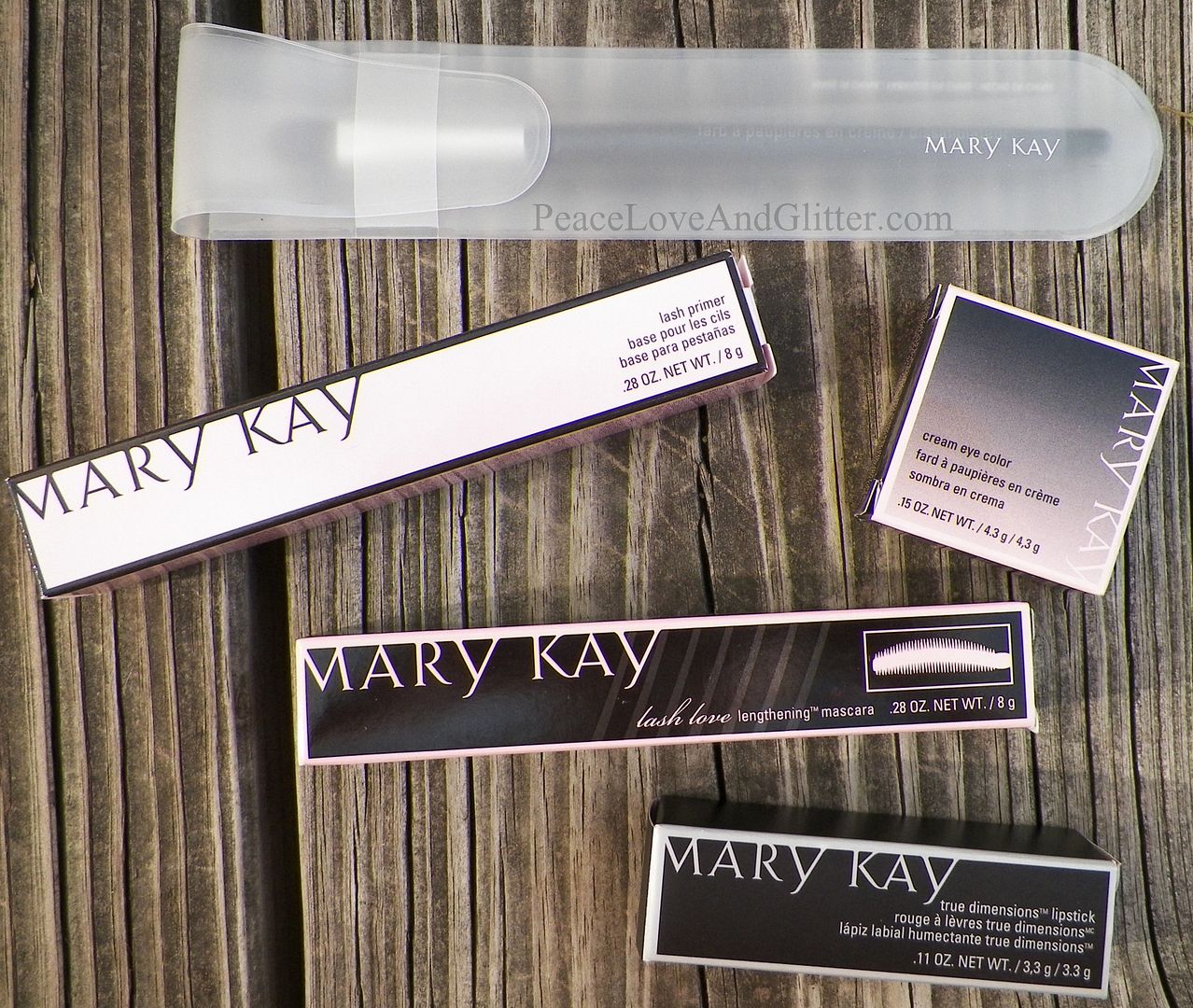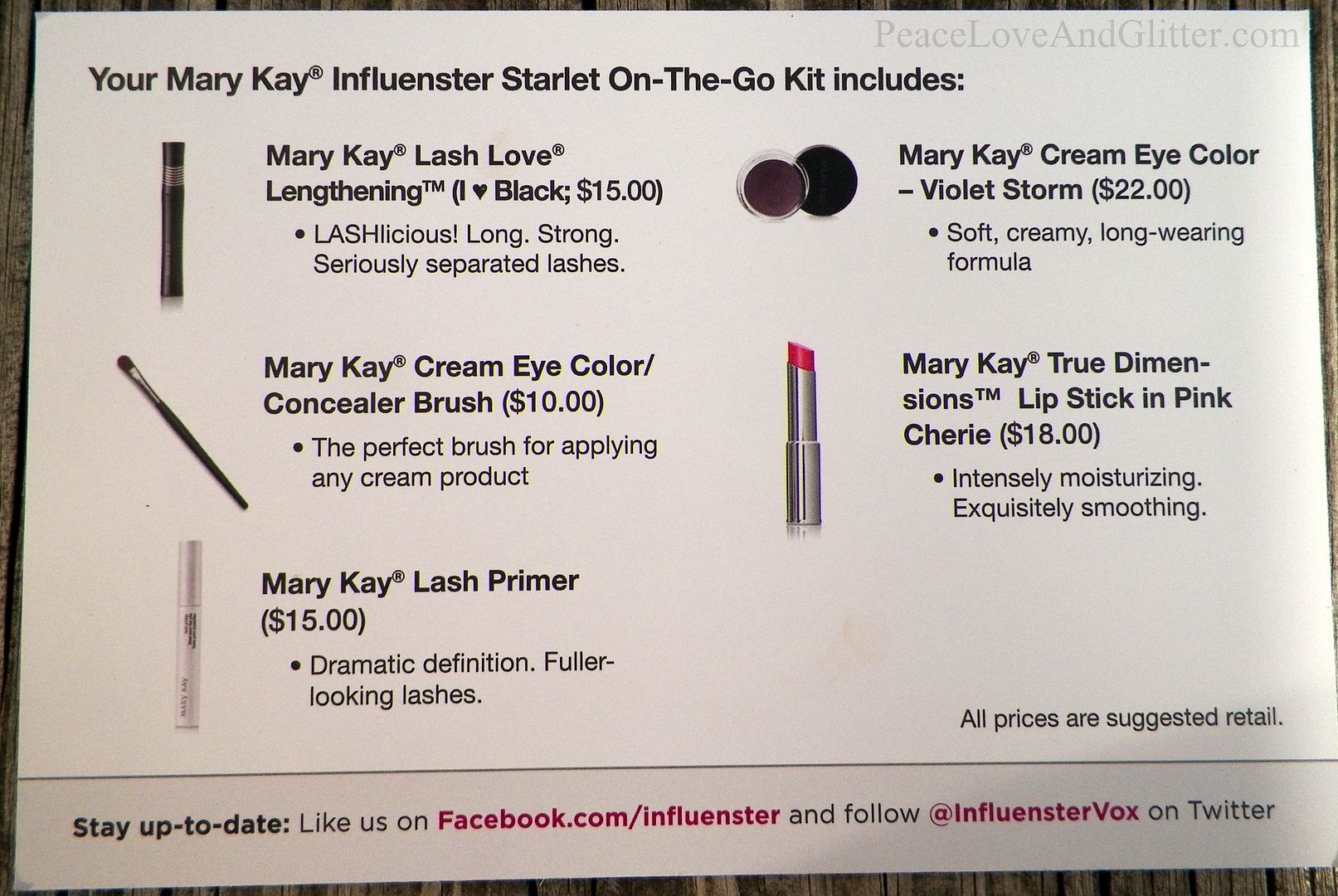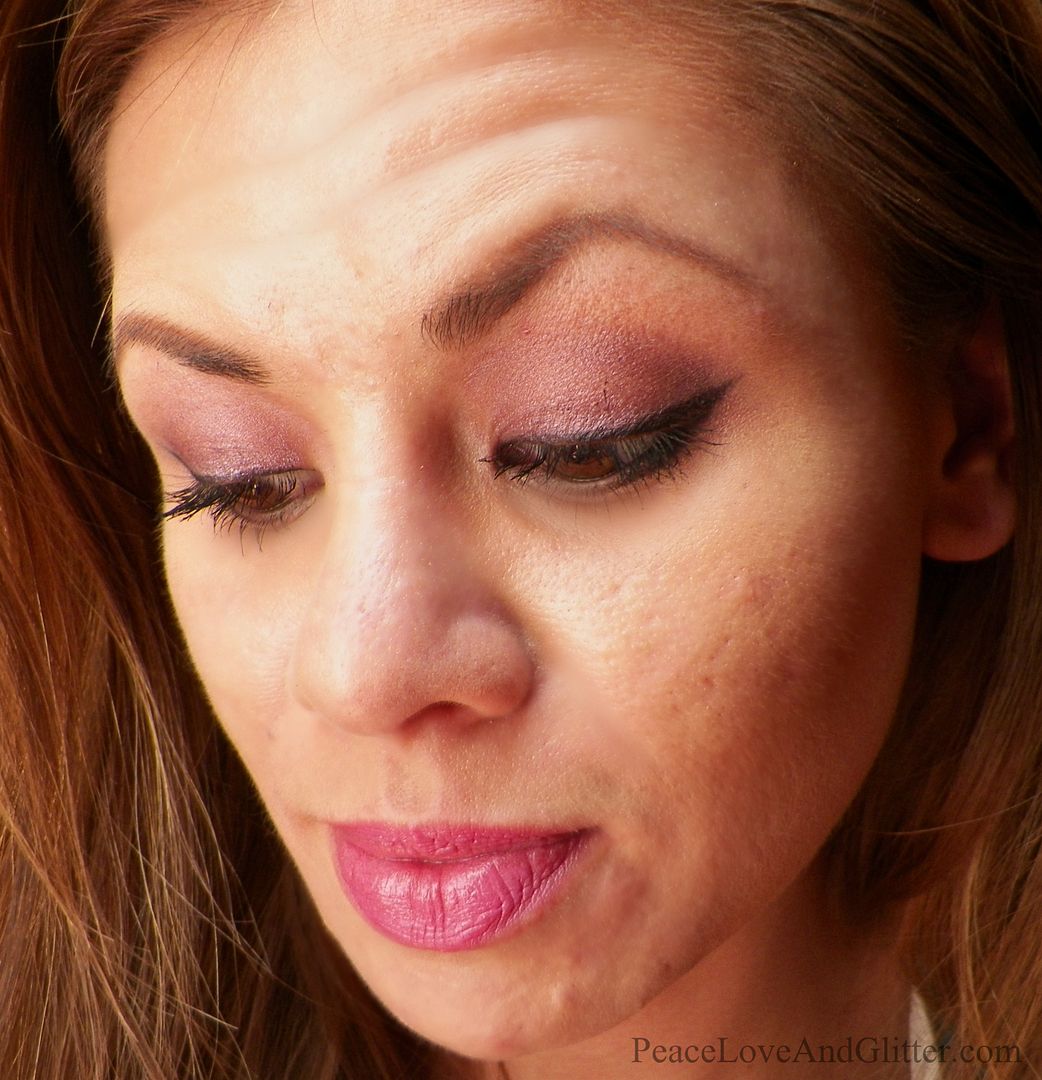 Press SampleAffiliate Links
Where: Mary Kay (mascara, primer, brush, cream eyeshadow, lipstick), Amazon (mascara, primer, brush, cream eyeshadow, lipstick).Price: $15/0.28oz (mascara), $15/0.28oz (primer), $10 (brush), $14/0.15oz (cream eyeshadow), $15/0.11oz (lipstick).
What do you think of these Mary Kay products?  Do you have a favorite from them?
The most important thing beyond discipline and creativity is daring to dare. – Maya Angelou
Drink water. Wear SPF.
About the author: I am currently a makeup artist and licensed esthetician in the Kansas City area. It is my life's passion to make people look and feel their best! I'm also a die-hard Harry Potter fan and Chipotle enthusiast. Click here to learn more about me.
INFLUENSTER DISCLOSURE: I received these products complimentary for testing purposes from Influenster. I am under no obligation to talk about these products or brands nor do I receive additional benefits or compensation for talking about them. The views expressed are my own. Click here to read my full disclosure policy.