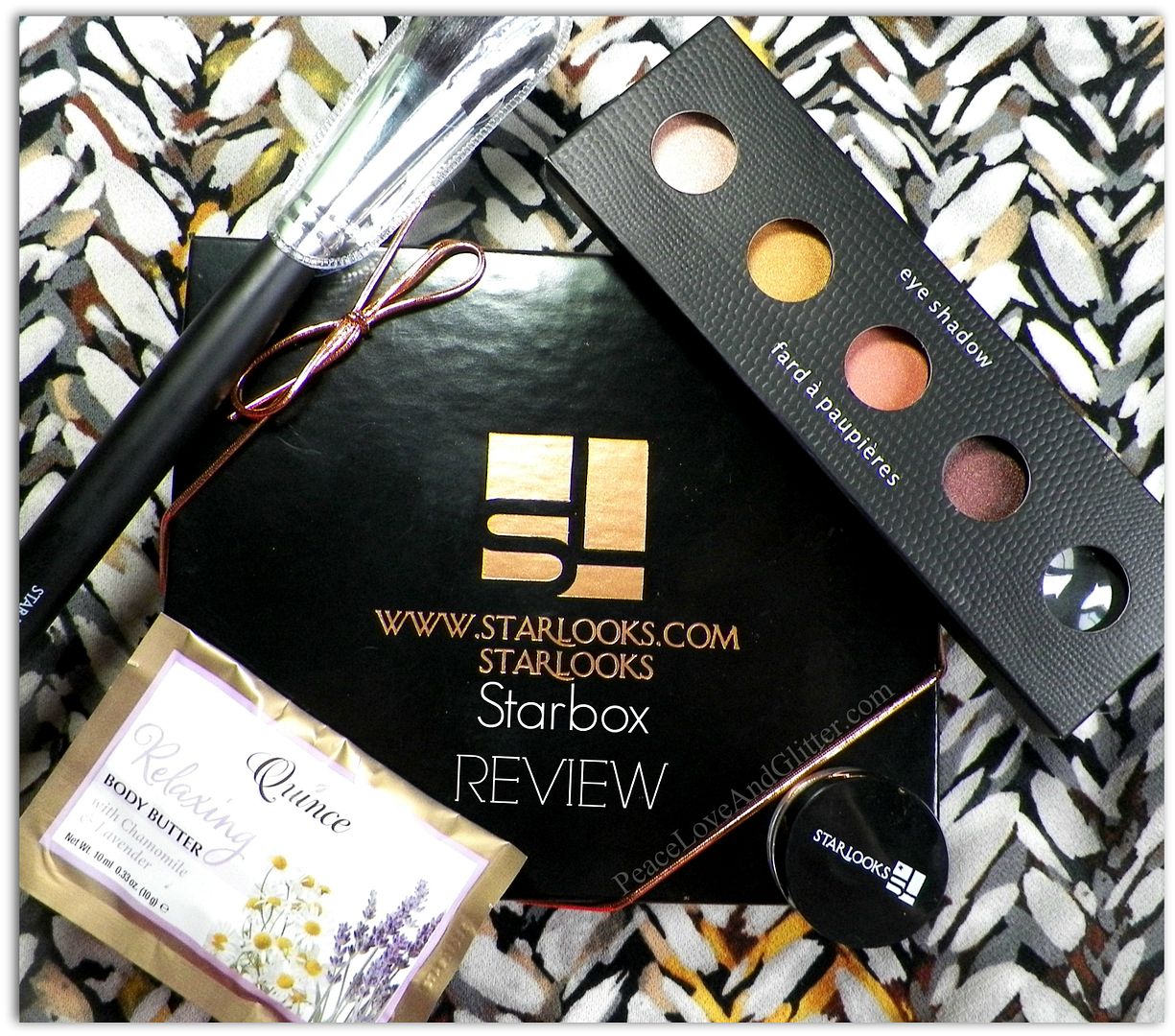 What is Starlooks Starbox?:  Starlooks is a professional beauty and fashion product line.  Starbox is their monthly subscription service.  It's $15 (+$2.68 shipping) for full-sized and deluxe sample sized products.

I have to admit, I jumped onto the beauty box bandwagon long before everyone else did.  I remember telling people about Birchbox before any even knew what it was.  Nowadays, there's a box for everyone and their mom (and dog).  It's a really ingenious idea, a monthly surprise (that, ahem, we actually look forward to ladies) for an affordable price.  It's one of those things that you just think, well, why not?
I got over my beauty box craze about 6 months ago.  I cancelled all of my subscriptions and never looked back.  You can only do so much with little sample packets and fragrance samples.
One day my grandma (which if you guys read this or know me, you know I'm really close with her) asked me if I had heard about Starlooks.  I thought for a minute, no, I actually hadn't.  She pulled it up on her iPad (yes, my grandma has an iPad) and showed me the website.  "It sounds like a good deal!" she said.  I replied, "Grandma, I have enough stuff.  I don't need any more."  Well about 30 minutes later I caught her on the computer and she asked for my email address.  "Why?!" I said.  "… well, I just think you should try this."  Oh grandma, I love her so much.
So, even though I didn't want to sign up, I'll admit I was excited to get this new box.  I anxiously checked the mail every day waiting for it… man, I missed this feeling!  When it finally came I ripped open the envelope to reveal:
The pros: Looking at it, I'd say it was worth 15 bucks.  5 full-sized eyeshadows and a brush was enough to make it worth the $.  The pigment is really pretty but it's very small, about the same size as a MAC sample jar.  I thought the body butter was an odd addition, but after reading the card it made sense (you're supposed to mix it with the gold pigment and apply to your body to get a bronzed glow).  The brush is a small angle blush brush, perfect for contouring and blush application.
The cons:  My stomach almost fell through my butt when I read the price of the palette: $41.  That's $8/shadow.  That may not sound like a lot, but compare it to the legendary UD Naked Palette, which breaks down to $4/shadow.  The packaging looks and feels cheap and the eyeshadows aren't even named.  The eyeshadows swatched nicely.  I didn't have any trouble with application, they were slightly dry but still blendable with minor fallout.  However, overall they didn't last.  Without primer they lasted less than an hour before fading (although the two darkest on the left were the best performing, slightly outlasting the others).  With primer, they lasted 4.5 hours before starting to fade.
After reviewing the Starlooks website, not all of their prices were outrageous.  I haven't tried anything else from them so I can't speak for the quality of all of their products.  However, their website is unfinished (all questions are unanswered on their FAQ page) which looks really unprofessional.
Overall
I'd say it was worth the $17.68, it included a full eyeshadow palette, a brush, and a sample of pigment and lotion.  The retail prices are inconsistent, some are pretty affordable and some are a little outrageous in my opinion.  Their website is also buggy, which comes off as unprofessional.  I haven't written off the Starbox, I'll wait until I get a few more to really make up my mind.

Glitter Rating: 3.5 / 5

Where: Starlooks. Price:$17.68/month.
For additional pics,
Where:Starlooks. Price:$17.68/month.
Check out my other Starlooks Starboxes here.
What do you think of Starlooks Starbox?  Do you have a favorite monthly subscription service?
Promote what you love rather than bashing what you hate.
Drink water. Wear SPF.
Facebook | Twitter | Bloglovin' | Pinterest | Instagram | Google+
About the author: I am currently a makeup artist and licensed esthetician in the Kansas City area. It is my life's passion to make people look and feel their best! I'm also a die-hard Harry Potter fan and Chipotle enthusiast. Click here to learn more about me.