Press SampleAffiliated BrandAffiliate Links
Marc says (LASH LIFTER – Gel Volume Mascara): Innovation for your eyes only. A revolutionary mascara containing E-lash-tic lash™ technology that works like spandex to make lashes lifted, curvaceous and voluminous. No lash curler needed. Day to night, this innovative new gel formula adapts to your lifestyle. Get your lashes in shape.
LUST FOR LACQUER – Lip Vinyl: Satisfy your lip gloss craving with Marc's color-drenched, champagne-infused lip vinyl. This gently plumping formula wears like no other, while the unique pillowed applicator is an experience that leaves you lusting for more. Available in 6 full and 6 sheer coverage color palettes, with names inspired by Marc's favorite music. Full Coverage is decorated with a black logo and features a pointed applicator for a more precise application, while the Sheer formula has a silver logo and an oval paddle for an effortless application.
I'm SO excited to show you guys some of the NEW Marc Jacobs Beauty!  It's being launched TODAY and will be exclusively at Sephora!  And I assure you, it's worth checking out…
Lash Lifter Gel Volume Mascara:  The packaging is a little bit larger than other mascaras, I know that Marc wanted his packaging to be very luxe and almost feel like an accessory and I feel like he achieved that.  It's a bit heavier than the average mascara, and all of the corners are rounded.   The details are simple, with a single silver band and his logo on the front.  The brush is medium-sized, I find that it suits my smaller eyes very well.  It's more volumizing than lengthening, I found that it made my lashes look fuller.  Marc says "no lash curler needed."  Well Marc, I hate to break it to you but one is needed if you're Asian (hello straight lashes).  It dries to more of a wet finish.  If you're not a fan of those sticky, clumpy mascaras this would be something worth checking out.
Lust for Lacquer Lip Vinyl (in No Regrets):  This follows the same elegant, simplistic packaging that the mascara has.  It closes with a secure "click."   It feels tingly cool with you apply it, which I assume is the plumping agent.  It doesn't sting at all, unlike some other plumpers I've tried.  As far as it actually making my lips look bigger… well honestly I can't tell, I already have pretty large lips to begin with.  The formula is opaque and the finish is very glossy, it has some slip to it without being too sticky.  The applicator is unique, it's flat on the sides and comes to a rounded point.  I like that I can take the tip of it and run it along the edge of my lips, ensuring a perfect application.  I have also found the formula to be long-lasting for a gloss, about 4 hours before starting to fade.  The color is a warm venetian red and it compliments my warm NC30 skin very well.  I had a few people say that this "bleeds" on them (meaning it travels into the outer lip lines), but I haven't had that happen (and that's not a problem that I've had with any lip product).
Overall
The mascara is volumizing with a medium-sized applicator that suits my smaller eyes.  It's not sticky or clumpy at all, the gel formula has that "wet" look to it.  The plumping gloss has a cooling tingle sensation when applied, but I honestly can't tell if it makes my already large lips any larger.  The formula is very pigmented and glossy, it has some slip without being sticky.  It also has a unique applicator, with the end coming to a point.  The packaging is luxe and I can see this being up there with other high end brands such as Dior and YSL.

Glitter Rating: Mascara 4 / 5, Gloss 5 / 5

Where: Marc Jacobs (mascara, gloss), Sephora (mascara, gloss)  . Price:$26/0.24oz (mascara), $28/0.16oz (gloss).
For additional pics,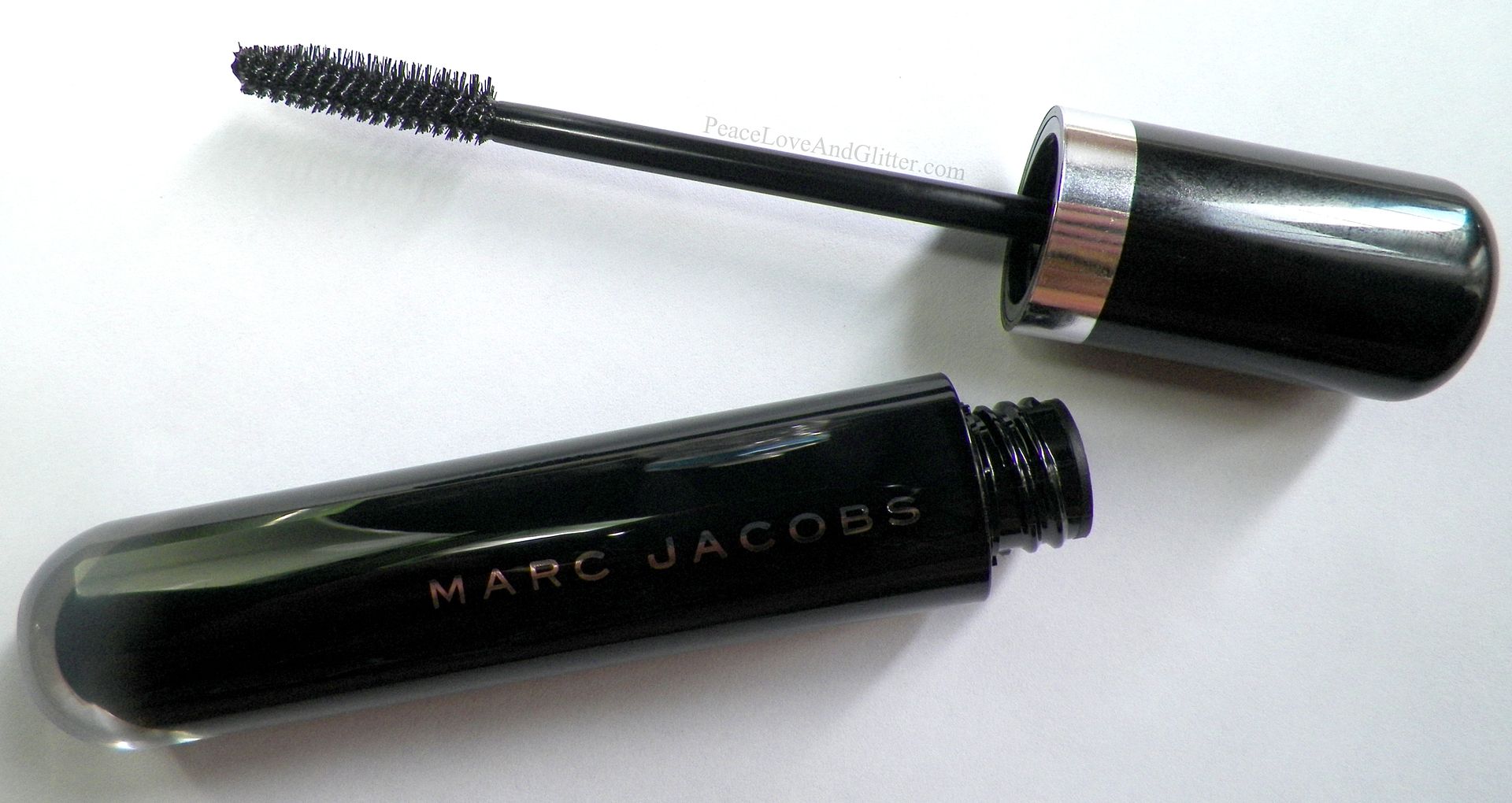 Press SampleAffiliated BrandAffiliate Links
Where: Marc Jacobs (mascara, gloss), Sephora (mascara, gloss)  . Price:$26/0.24oz (mascara), $28/0.16oz (gloss).
What do you think of the Marc Jacobs mascara and gloss?  Will you be making any purchases?
If you obey all the rules you miss all the fun. -Katharine Hepburn
Drink water. Wear SPF.
Facebook | Twitter | Bloglovin' | Pinterest | Instagram | Google+
About the author: I am currently a makeup artist and licensed esthetician in the Kansas City area. It is my life's passion to make people look and feel their best! I'm also a die-hard Harry Potter fan and Chipotle enthusiast. Click here to learn more about me.
BRAND AFFILIATION DISCLOSURE: I am currently employed by a cosmetic retail store called Sephora. I am under no obligation to talk about Sephora or brands affiliated with Sephora nor do I receive additional benefits or compensation for talking about them. The views expressed are my own and do not necessarily express the views of Sephora. Click here to read my full disclosure policy.