Affiliated BrandAffiliate Links
Say what you want about the Kardashians, but you can't deny that they have great style.  Sometimes, yes, a little over the top, but they've managed to make "Kardashian" a household name.  I'll admit, I don't "keep up" with them on their show and I don't care that Kim named her baby after a direction in geography (well, I thought it was kind of cool because I went to a college called Northwest, go Bearcats!).  But I do think they have fabulous hair!
Here is how to recreate their signature look: *Bonus:  I only used 3 products!*
1. *Prep with heat protectant spray* Start by dividing your hair in half, putting one half on each shoulder.  Take a 2.5-3in section of hair (depending on how many curls you want).  Flip your curling iron (I use a 1 inch) upside down and wrap your hair around the front of the iron (you want to curl away from the face, not towards).  You'll want to start in the middle of the hair because that is where you need the most heat.
2. Continue to wrap the hair around the barrel, making a full "loop."  Start rolling the iron towards your head (counter clockwise) while moving down to the ends of the hair.
3. So you roll, then move down (I usually do a little "clamp clamp clamp" motion when moving down).  While you're rolling towards the head, leave the clamp down (you will do about 1/2 rotations).
4-5. So the motion is "roll, then clamp clamp clamp" until you get the ends of the hair.
6. When you reach the end of the hair, pull the barrel directly out and upwards, leaving the curl in your hair.
7. If you want loose curls, give the curl a pull while it's still warm.  If you want tighter curls, wait until the hair cool before starting to run your fingers through it.
Continue this same pattern, alternating each side (so they're even!).  I finish by waiting for the curls to cool and running my fingers through it.  I then flip my hair over and spray some hairspray or my latest obsession, some BB Dryspun.  This whole process takes me about 10 minutes to do my whole head.
Check out my before and afters!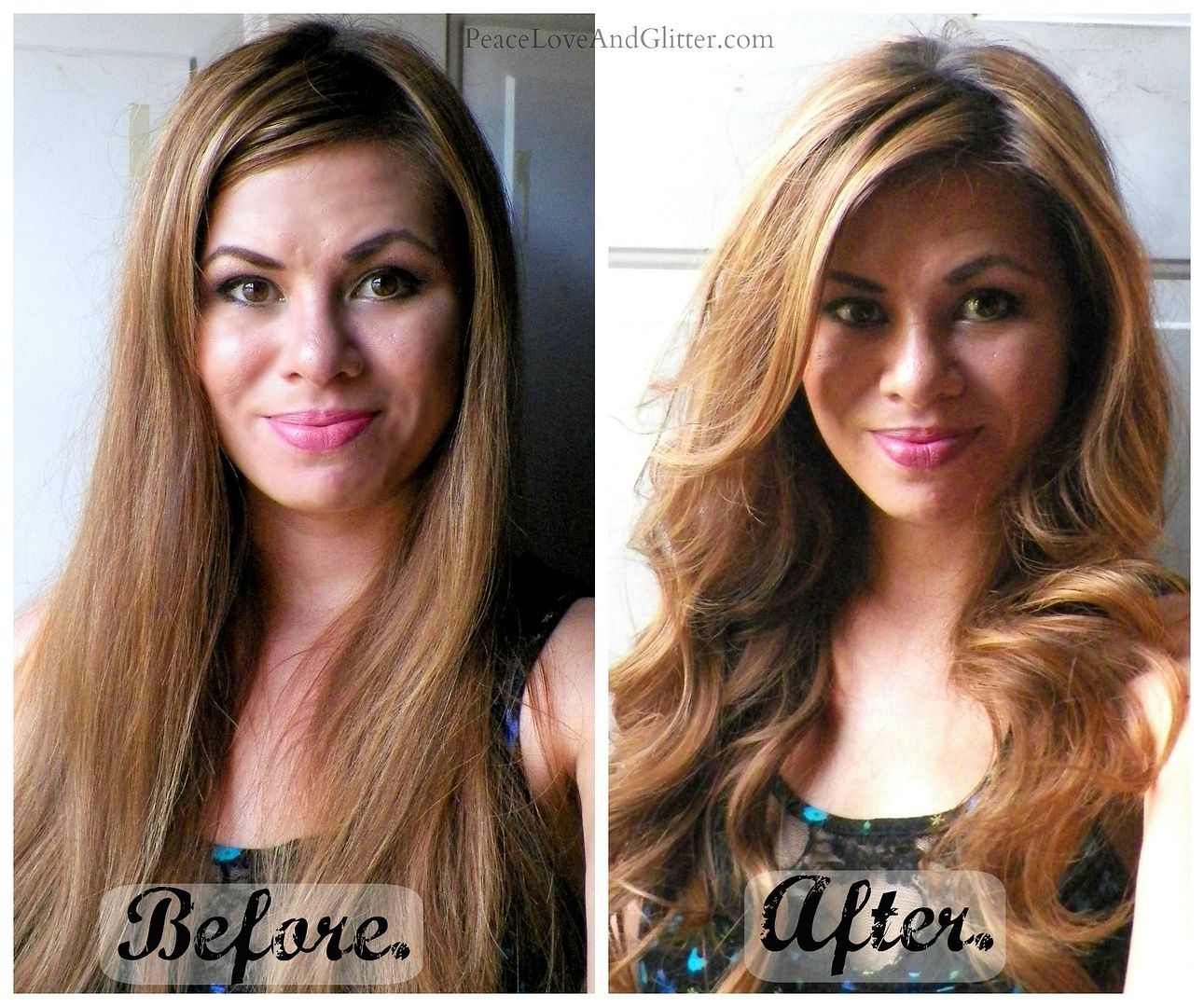 Affiliated BrandAffiliate Links
And there you have it!
Products used: Alterna Caviar Anti-Aging Perfect Iron Spray ($28/4.1oz), Conair Infinity Tourmaline Ceramic Curling Iron 1″ ($15.22), Bumble and bumble Dryspun Finish ($29/4oz).
What do you think of this method?  Will you be channeling your "inner Kardashain" soon? 😉
Beauty isn't about having a pretty face.  It's about having a pretty mind, a pretty heart and a pretty soul.
Drink water. Wear SPF.
Facebook | Twitter | Bloglovin' | Pinterest | Instagram | Google+
About the author: I am currently a makeup artist and licensed esthetician in the Kansas City area. It is my life's passion to make people look and feel their best! I'm also a die-hard Harry Potter fan and Chipotle enthusiast. Click here to learn more about me.
BRAND AFFILIATION DISCLOSURE: I am currently employed by a cosmetic retail store called Sephora. I am under no obligation to talk about Sephora or brands affiliated with Sephora nor do I receive additional benefits or compensation for talking about them. The views expressed are my own and do not necessarily express the views of Sephora. Click here to read my full disclosure policy.