Too Faced says: A stay-all-day universal bronzer that delivers a subtle shimmer. All good things don't have to end. Get a lit-from-within bronzed glow that lasts up to 16 hours or more. The Double Bond formula combines the staying power of film formers and polymers with prolonged-wear pigments. These buildable bronze pigments can be dusted all over for an even bronze glow. It's a bronzer that works harder than you play.

It's Friday!  Yay!  Fridays don't really mean a lot to me because I always work on the weekends :-/ But for you 9-5ers, yay!
Just because summer is over doesn't mean you have to put away your bronzer.  If anything, it's time to start utilizing it more to imitate the golden summer glow!  I love the Too Faced bronzers (milk and chocolate soleil are staples in my kit) so I was excited to their the newest addition to their bronzer family.  This promises a "lit-from-within" glow and polymers that give it a longer wear time.  Imma just put this out there now:  I don't wear makeup for 16 hours.  I will wear makeup for 12 hours at the longest, but this girl likes to wash her face.  While I'm glad that this doesn't make a ridiculous 24-hour claim (ahem Lancome Teint Idole…), 16 hours is still a long period of time.
This isn't exactly a shimmery bronzer, but it's not matte either.  It has a subtle golden sheen to it.  The color is a warm medium brown, suitable for light-medium to medium complexions.  I find it looks orange on fair complexions and not dark enough for deeper complexions.  I like to use an angled contour brush to really bronze it up, or a fluffy powder brush to just get a sheer wash of color.  It wears 9-10 hours on me, which I consider "all day."
So a medium brown bronzer with golden sheen… does this sound familiar?  Say like… NARS Laguna?  They are VERY similar, Nars is a teensy bit warmer with a little more golden sheen to it.  And when you break it down by dollars per ounce, the Too Faced is a little less expensive.
Overall
It's a nice medium brown bronzer with a golden sheen.  Perfect for giving a sun-kissed glow to the skin.  This is best suited for medium skin tones.  It wears for 9-10 hours on me.  This is also really similar to NARS Laguna.

Glitter Rating: 4 / 5

Where: Too Faced, Sephora, Ulta. Price: $30/0.25oz
For additional pics,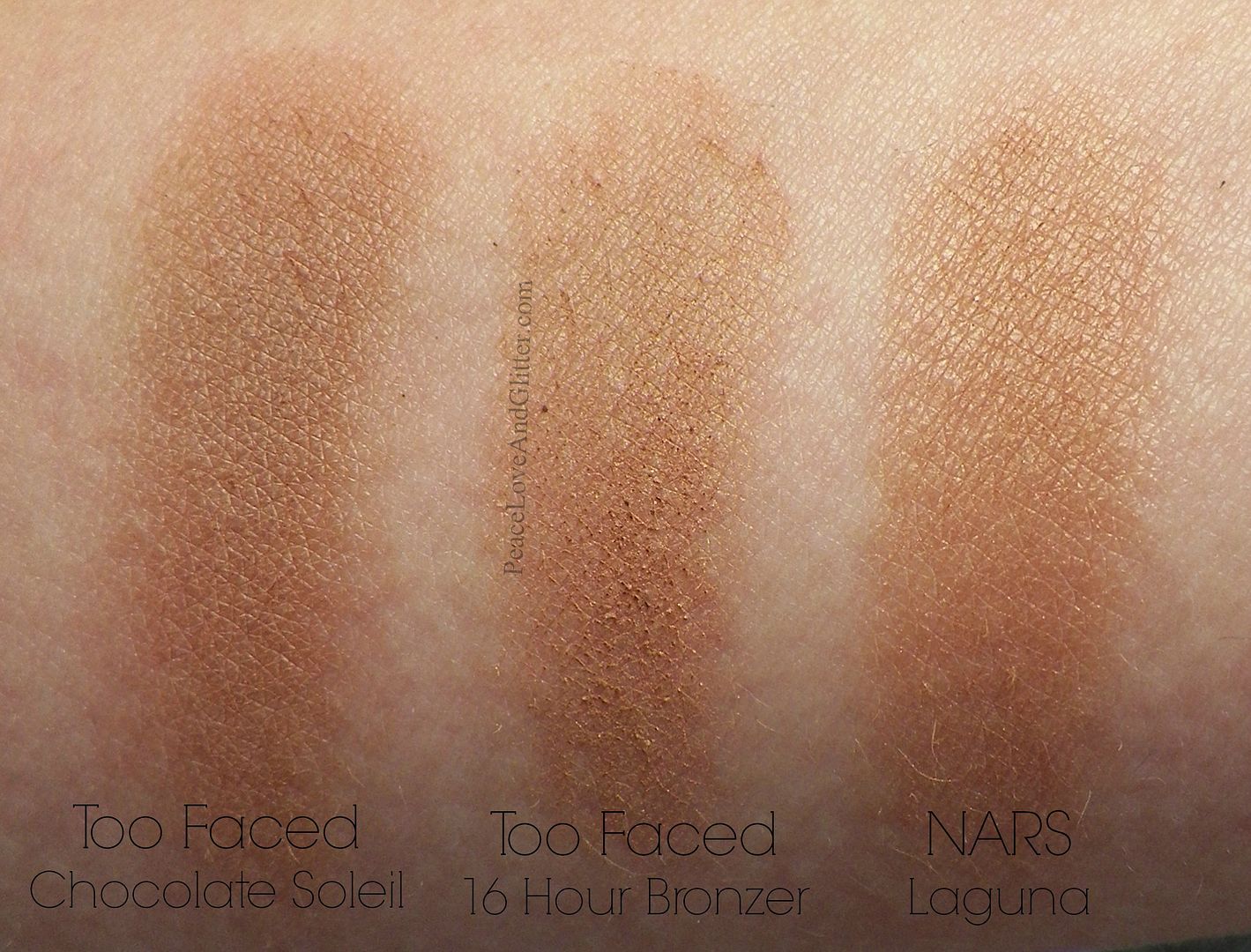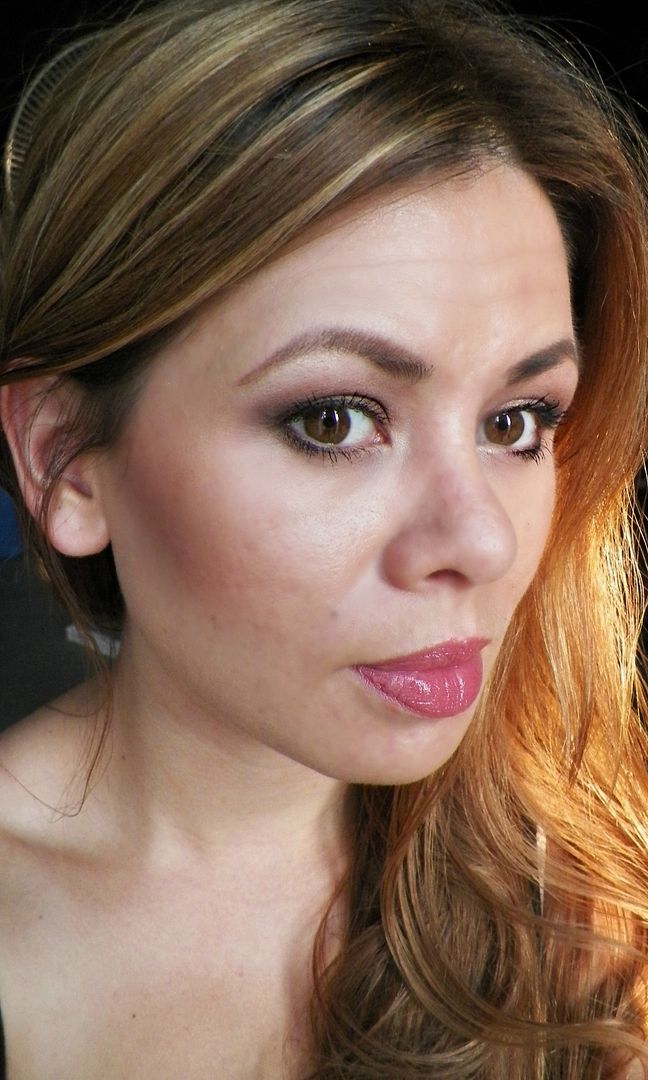 Where: Too Faced, Sephora, Ulta. Price: $30/0.25oz
What do you think of the Too Faced 16 hour bronzer?  What's your favorite bronzer?
Money can't buy happiness.  But it can buy makeup.
Drink water. Wear SPF.
Facebook | Twitter | Bloglovin' | Pinterest | Instagram | Google+
About the author: I am currently a makeup artist and licensed esthetician in the Kansas City area. It is my life's passion to make people look and feel their best! I'm also a die-hard Harry Potter fan and Chipotle enthusiast. Click here to learn more about me.
BRAND AFFILIATION DISCLOSURE: I am currently employed by a cosmetic retail store called Sephora. I am under no obligation to talk about Sephora or brands affiliated with Sephora nor do I receive additional benefits or compensation for talking about them. The views expressed are my own and do not necessarily express the views of Sephora. Click here to read my full disclosure policy.