Formula X says: With our groundbreaking NO COMPROMISE technology, now you can finally have everything you want from a nail polish. A dazzling spectrum of over 200 shades and never-before-seen effects gives you the freedom to supercharge your creativity.

I'm excited to show you something NEW today!  It's the newest member to the nail polish world:  Formula X.  It features brand new nail technology that is exclusive to Sephora for the next 6 months.  I've been hearing about this for months now so I was excited to FINALLY check it out!
So there is a system that you're supposed to use with it.  Unlike gel polish, you don't HAVE to use it and there isn't any curing light involved. However, they say that using the system is supposed to give you optimal results.
1) You start off with the cleanser.  I believe that it's mostly alcohol, but it also has witch hazel, vitamin E, and cucumber extract in it.  You simply brush it on your nails and it dries within a minute.
2) You then apply the base coat, which provides a sticky surface to prime the nails.  It is "infused with Okoumé AE extract, a rare ingredient found deep in African rainforests." Whatever that means…
3) Now it's time to apply your polish.  Each color has been infused with "luminescent ingredient that enhances color and overall shine, it also features a fast-drying agent that gives you a smooth, flawless finish in no time."  It's also a 3 free formula.  Fahrenheit is a cool red, it photographed a bit brighter than it actually is.  I found that I had pretty full coverage after one coat which makes me one impressed girl.  Usually one coaters are thick and hard to apply, but this one goes on with ease.  I did end up applying two coats to even out some of the slight streaky-ness (and the directions say to apply 1-2 coats).
Time for the fun part:  the Xplosives top coat!  These claim to be "a next generation graffiti art nail lacquer that fuses matte glitter particles in assorted shapes and sizes for a paint-splatter effect."  I imagine some indie brands have stuff like this, but I really haven't seen any top coats like this for the mass market.  You use a patting motion to apply these.  The base isn't thick at all so it's easy to build it up if you wanted to.  I find "paint splatter" to be the perfect description.  Chaotic has black and white confetti glitter, but it's not metallic at all.  The particles are mostly round and vary in size, but there's some hex and bar glitter in there too.  I patted on one coat and I LOVE the way it turned out!
4) Lastly, you add the top coat.  It has "patented formulation delivers invisible anti-chip technology and resistance to water and detergents."  It's has a very glossy finish.
Dry time was about 10 minutes.   Actually, it may have even been less, but that's how long I sat still before I decided to go eat dinner.  Lets backtrack:  5 coats of polish.  10 minutes to dry.  That's crazy talk.
Overall
The color Fahrenheit could easily be a one coater, it packs a lot of pigment without being too thick.  Chaotic literally looks like a paint splatter on my nails, I love the effect.  I can't speak in terms of longevity yet, but so far I liked the easy application.  The quick dry time is also a huge plus.  I will be interested to see if using the entire "system" really makes a huge difference.

Glitter Rating: 5 / 5

Where: Sephora (cleanser, base coat, Fahrenheit, Chaotic, top coat) . Price: $10.50/0.4oz (cleanser, base and top coat, Fahrenheit), $12.50/0.4oz (Chaotic)
For additional pics,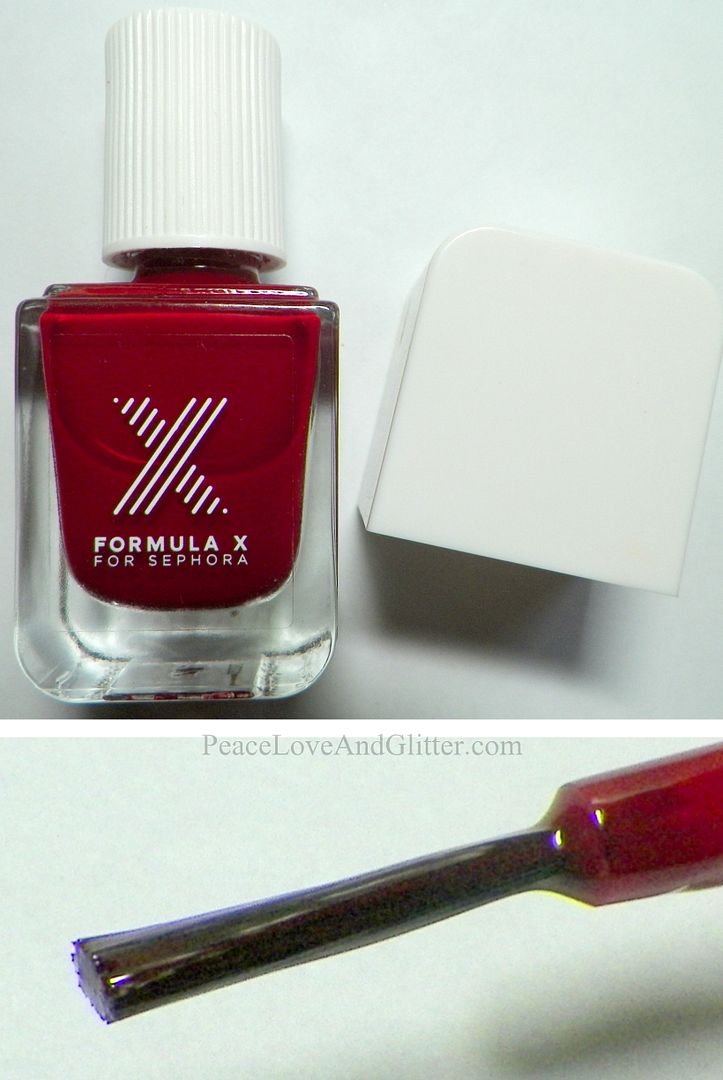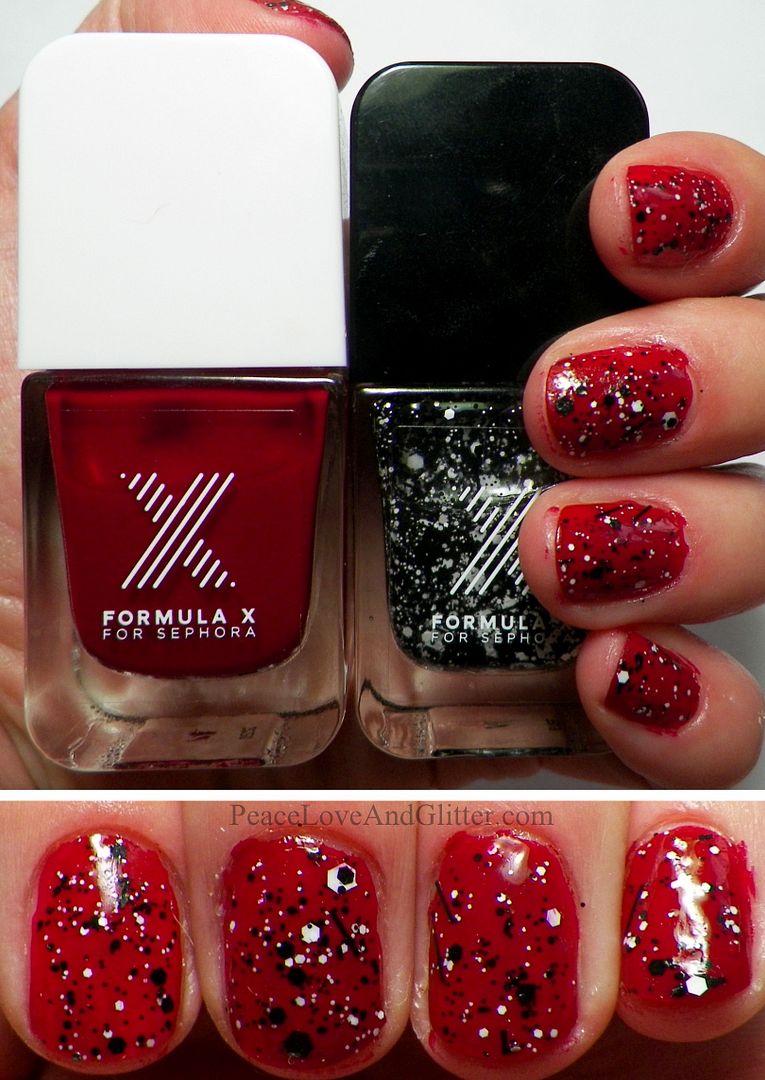 Where: Sephora (cleanser, base coat, Fahrenheit, Chaotic, top coat) . Price: $10.50/0.4oz (cleanser, base and top coat, Fahrenheit), $12.50/0.4oz (Chaotic)
What do you think of Formula X?  Will you be checking it out?
I love the person I've become because I've fought to become her.
Drink water. Wear SPF.
Facebook | Twitter | Bloglovin' | Pinterest | Instagram | Google+
About the author: I am currently a makeup artist and licensed esthetician in the Kansas City area. It is my life's passion to make people look and feel their best! I'm also a die-hard Harry Potter fan and Chipotle enthusiast. Click here to learn more about me.
BRAND AFFILIATION DISCLOSURE: I am currently employed by a cosmetic retail store called Sephora. I am under no obligation to talk about Sephora or brands affiliated with Sephora nor do I receive additional benefits or compensation for talking about them. The views expressed are my own and do not necessarily express the views of Sephora. Click here to read my full disclosure policy.