Josie says: An innovative 99%-natural creamy oil with an infinite number of uses such as hydrating skin, conditioning lips, and illuminating complexion. One creamy oil, infinite possibilities. This makeup-artist must-have delivers all the moisturizing benefits of argan oil in a portable, nongreasy, creamy oil form. The innovative formula starts as a cream and melts into an oil, making your complexion more luminous while tightening facial contours and preventing inflammation. Use it to hydrate and gently soothe undereyes, smooth flyaways, keep eyebrows in place, and condition lips. Mix it with powder blush or eye shadow to instantly transform it into a cream.

Happy Wednesday everyone!  Can you believe we are halfway through October?  Holy moly, I haven't even decided what I'm going to be for Halloween yet!  Usually I have it figured out by August.  I guess I've been too consumed with work… does that mean I'm officially a grown up?
Well even though I've been busy I still find time to test out beauty products!  It is, after all, part of my job too.  This balm has all of the great properties of the original argan oil, but it's in a cream form.  I love love love the vitamin E and essential fatty acids in argan oil, but it can be a bit messy (I've even spilled the bottle on my counter before.  Tragedy).  So having this miracle oil in a balm form was definitely appealing to me.
Here are the "infinity" uses listed on Sephora.com: Deeply moisturize dry areas of the face. Soothe irritated skin caused by rosacea, wind, or sunburn. Soften elbows, heels, and other rough patches. Keep stray eyebrows in place. Smooth flyaways. Moisturize at night. Prevent razor burn and irritation. Prevent skin dehydration during airline travel. Apply as a lip conditioner before lipstick. Apply over lip stain for a silky finish. Lightly dab on eyelids before applying eye shadow. Apply before or after using cheek stain to improve blendability. Transform powder eye shadow or pigment into a cream by mixing with Infinity Cream. Mix with a powder luminizer to create a light, shimmery lip balm. Use as a subtle face highlighter to illuminate cheekbones, lips, and brow bones. Mix with a powder blush to create a silky cream blush or colored lip balm. Hydrate and plump dry, swollen undereyes. Apply to fingertips and toes to hydrate and soften cuticles. Quench skin post-sunburn.
That's quite a list.  I'll admit, I haven't tried EVERY single one of these, but I used it in all the ways that I usually use argan oil and I found myself very satisfied.  The consistency is very unique, it starts out very creamy, like a typical lotion.  But after you start to rub in and it warms up, the product turns into an oil.  It's feels similar to petroleum (NOTE that it's petroleum free) but a bit creamier.  It also has a slight citrus scent due to the tangerine peel oil.
My favorite use is for my hands, but it does leave a slightly greasy residue (especially if you use too much).  I use a pearl sized amount and apply to just the backs of my hands.  I also like to apply a TINY bit to my under eye area before concealer, it makes for a smooth application.  This has been amazing for my lips, which have been peeling like crazy lately.
My least favorite uses:  Hair.  Even to smooth out flyaways,  it's just too greasy for me.  I've tried mixing it with cosmetics (luminizers, blushes) and it's too shiny.  I can get away with it if it's under my makeup (and I've only tried it under my eyes), but when it's on top it looks greasy.  As for using it with eyeshadow… well I don't suggest it unless you want your eyeshadow to crease.
I've gotten some feedback from various clients who LOVE this product.  Some say that it helps a lot with eczema.  I've had a few people tell me that they use it like a shaving cream and it's the only thing that works for them.
Overall
I love this all natural multipurpose balm because it has all the same great properties of argan oil PLUS some other amazing ingredients.   It has a unique consistency, starting off like a lotion but turning into an oil after it warms up.  It's too greasy to use on my face and I don't like the way it feels on my straight hair.  Other than that, I use this anywhere that needs to be moisturized!

Glitter Rating: 4 / 5

Where: Exclusively at Sephora.  Price: $28/2.2oz.
For additional pics,

Ingredients:  Carthamus Tinctorius (Safflower) Seed Oil**, Butyrospermum Parkii (Shea Butter) Fruit**, Coco-Caprylate/Caprate**, Beeswax**, Butyrospermum Parkii (Shea Butter)**, Glyceryl Dibehenate**, Tribehenin**, Glyceryl Behenate**, Citrus Tangerina (Tangerine) Peel Oil**, Tocopherol, Argania Spinosa (Argan) Kernel Oil*, Persea Gratissima (Avocado) Oil**, Abyssinian Oil (Crambe Abyssinica) Seed Oil**, Cocos Nucifera (Coconut) Oil**, Aloe Barbadensis (Aloe Vera) Leaf Extract**, Soybean Glycerides**, Linoleic Acid**, Simmondsia Chinensis (Jojoba) Seed Oil** Mangifera Indica (Mango) Seed Butter**, Aleurites Moluccana Seed (Kukui Nut) Oil**, Macadamia Ternifolia (Macadamia) Seed Oil**.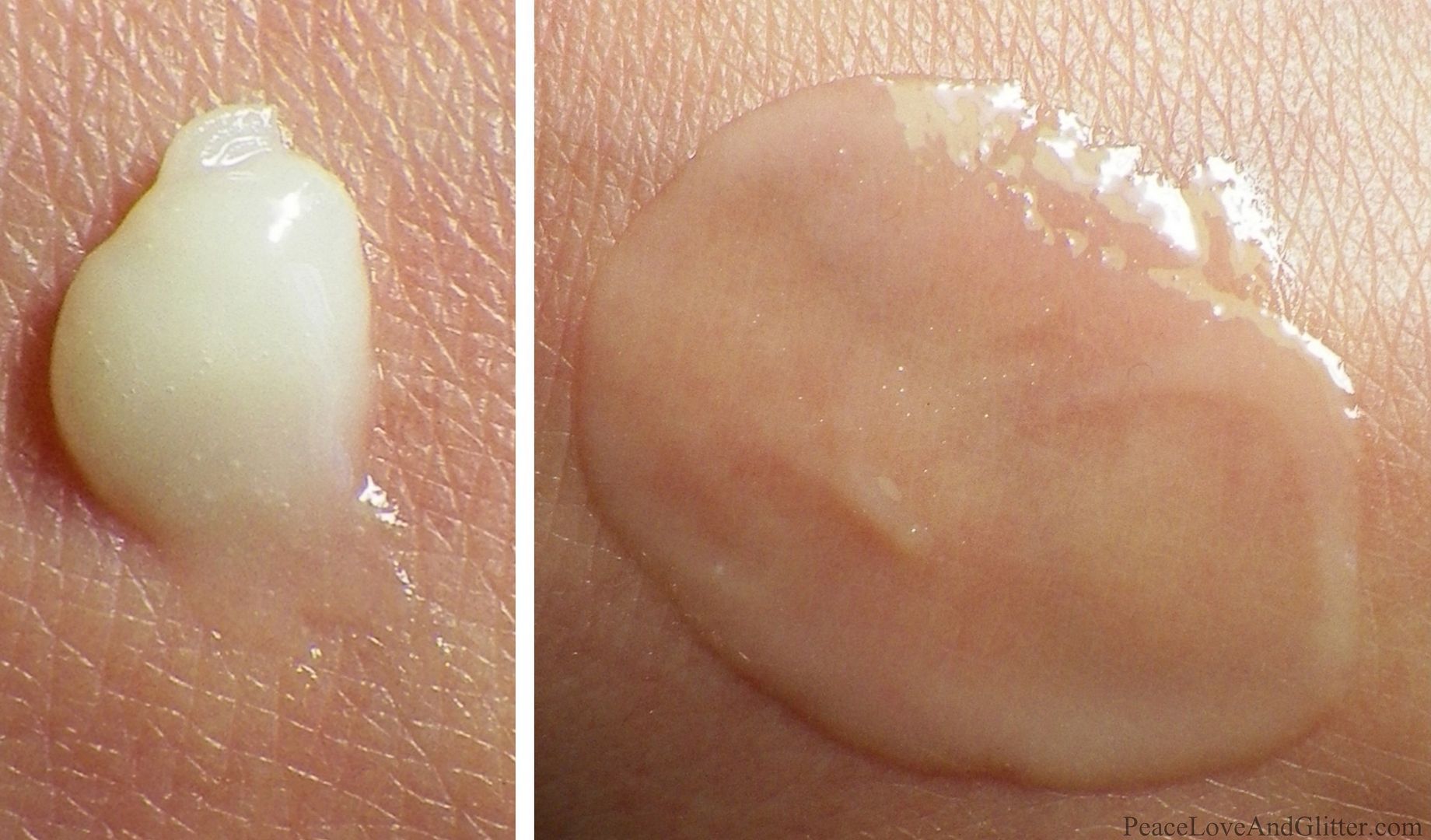 Where: Exclusively at Sephora.  Price: $28/2.2oz.
What do you think of the Josie Maran Argan Balm?  What's your favorite product for dry skin?
You are stronger than you think you are.
Drink water. Wear SPF.
Facebook | Twitter | Bloglovin' | Pinterest | Instagram | Google+
About the author: I am currently a makeup artist and licensed esthetician in the Kansas City area. It is my life's passion to make people look and feel their best! I'm also a die-hard Harry Potter fan and Chipotle enthusiast. Click here to learn more about me.
BRAND AFFILIATION DISCLOSURE: I am currently employed by a cosmetic retail store called Sephora. I am under no obligation to talk about Sephora or brands affiliated with Sephora nor do I receive additional benefits or compensation for talking about them. The views expressed are my own and do not necessarily express the views of Sephora. Click here to read my full disclosure policy.