HAPPY HALLOWEEN everyone!  I've been all about stepping out of my comfort zone this past week.  For some reason, I was never into "Halloween" makeup up until this year.  I was only into "pretty" makeup.  Well, I had no idea what I was missing out on!  Halloween makeup is FUN!  I've had fun trying new techniques and working with new mediums.  Luckily, since I work at a makeup store I get to wear my crazy looks to my workplace.  Check out some of my creations!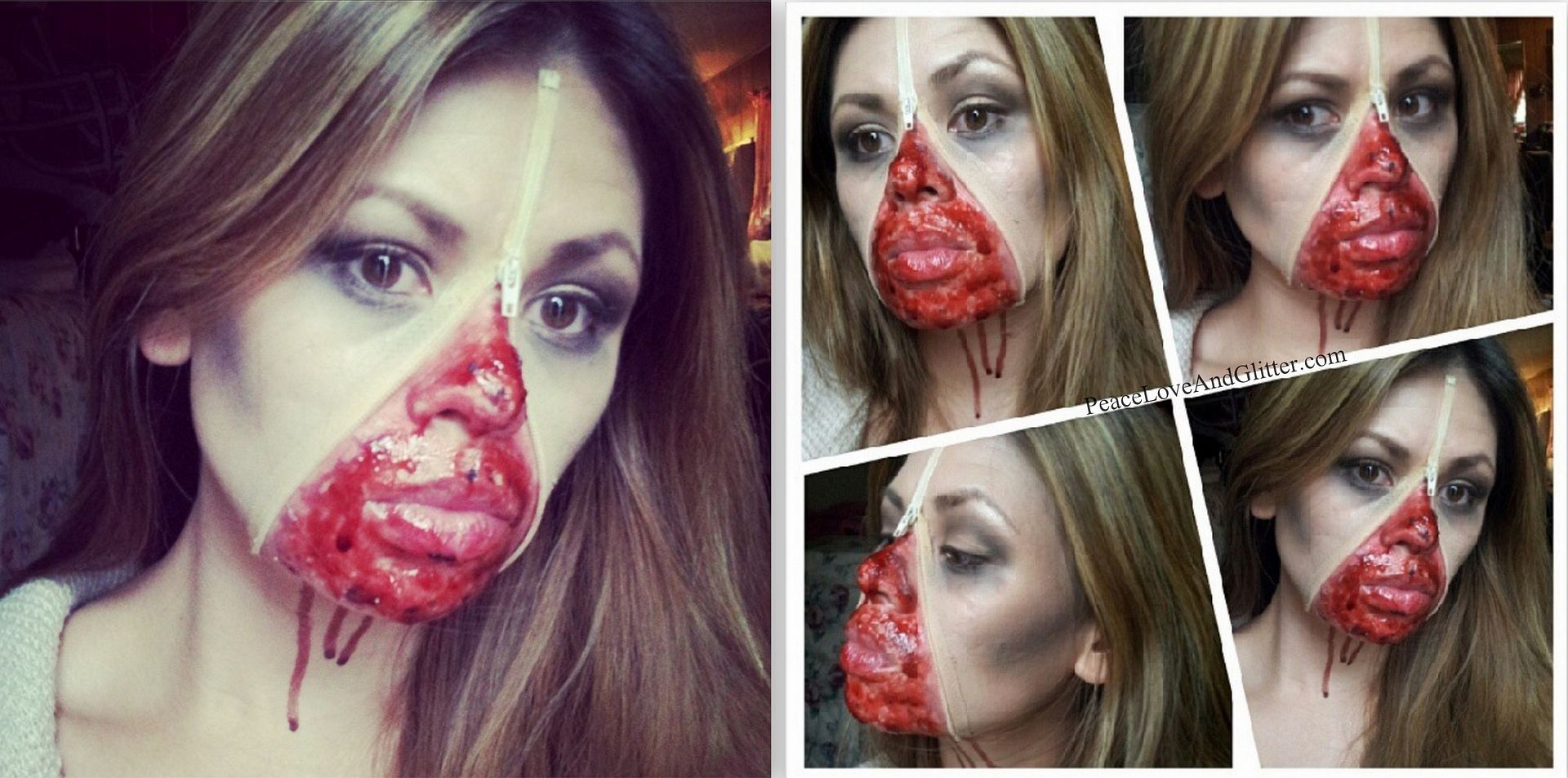 The zipperface.  After I finished the look I started making a jillion notes on what I would've done differently.  But it still turned out pretty cool/gross.  I used lash glue (Duo) to glue the 7in zipper to my face.  I used a real zipper from the fabric store, I thought it looked better than the big silver costume zippers.  Then I used liquid latex to smooth out the edges and applied concealer and foundation over it.  I then used a combination of gel and liquid blood.  I also used the red and black from my MUFE flash palette to create some dimension.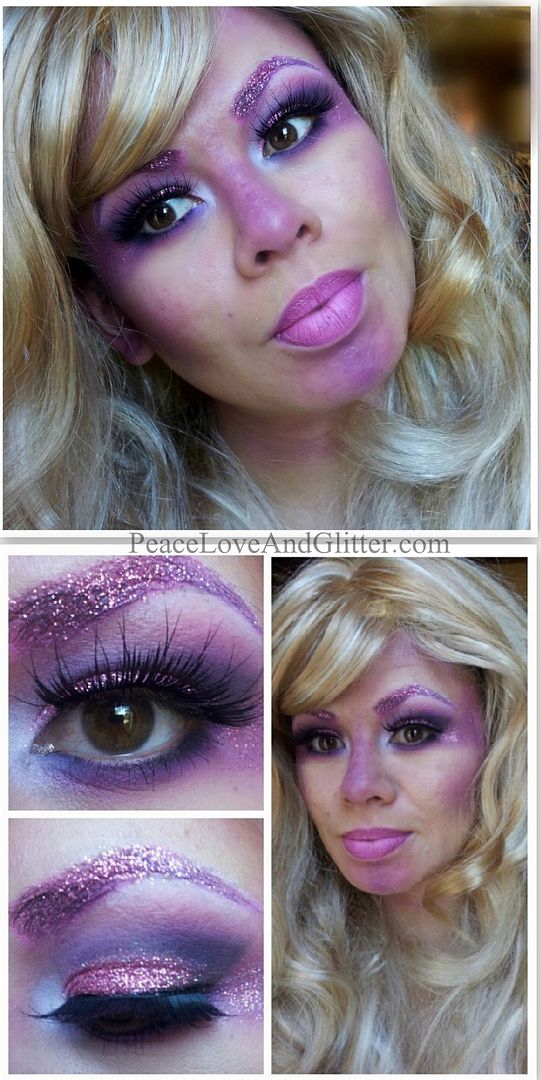 My glitter fairy/drag queen look.  I really went all our for this, the blonde wig just pushed it to over the top.  I used some unknown glitter from my kit, a bright pink, light lavender, and iridescent.  I used different shades of pink and purple on my eyes and black to create the outer V.  Giant lashes from the Halloween store.  I used lash glue (Duo) to get the glitter to stick to my brows (drew over them with a white base (NYX Jumbo pencil in Milk), then filled in with pink and purple eyeshadow, then applied glue with an angle brush, then glitter with an angle brush).  Used Too Faced Glitter Glue to get the glitter to stick to my lids and temples.
Another look for work, a "stitched doll."  I used a light foundation and contoured my face with a gray eyeshadow.  Dramatic smokey eyes using black and grays.  I used my giant Halloween lashes on the top and Red Cherry 747S on the lower lash line.  I covered my lips in concealer and simply drew on the lines with black pencil liner.
For additional pics,
My cat makeup.  I got a lot of positive feedback from this one, but I was really dissatisfied with it.  I have made some notes on what I'll do different next time…. practice makes perfect!  I used used my MUFE Flash Palette and black gel liner to create this.  There will be a part two of this… I'll post pics on my Instagram and Facebook!
My glam zombie look.  This one took me the longest.  This was my first time taking out my eyebrows (I used a glue stick, concealer, and powder).  It was also my first time making a bruise/gash.  I used liquid latex, single ply tissue, MUFE Flash Palette, and gel and liquid blood.   I used red a black eyeshadow for my eyes with a touch of black glitter on my lid.  Big lashes (unnamed from my kit).  Used black liner all over my lips and then a white base in the middle to create an ombre effect.
This one was the easiest and took the least time to create.  And I also received the most compliments while I was at work when wearing this.  I did a smokey eye using black and gold.  Giant lashes (same ones from my fairy look).  I used my Kat Von D eyeliner pen to draw on the spots and filled them in with Urban Decay Buck.  I used a white cream (MUFE Flash Palette) for under the nose.  I used a black gel liner to draw on the nose, mouth, and whiskers.
I hope you guys enjoyed this post!  I've felt so inspired the past couple weeks, it's really kept my spirits up.  What are you going to be for Halloween?  Have you been doing any fun Halloween looks?  Please share in the comments, links are welcome!
Drink water. Wear SPF.
Facebook | Twitter | Bloglovin' | Pinterest | Instagram | Google+
About the author: I am currently a makeup artist and licensed esthetician in the Kansas City area. It is my life's passion to make people look and feel their best! I'm also a die-hard Harry Potter fan and Chipotle enthusiast. Click here to learn more about me.